Yangtze Wharf of Zhenjiang Company Obtained Port Operation License
Category:Highlights
Release date:2020.01.02
Recently, Zhenjiang Company (one of subsidiaries of SINOMACH-HE)successfully obtained the port operation license of the wharf, marking that 10000-ton heavy-lift hoisting berth, 15000-ton heavy-lift roll-roll berth and 40000-ton break-bulk berth enter the operation period with conditions ripe for port operation and relevant activities.
Zhenjiang Company Obtained the Wharf and Port Operation License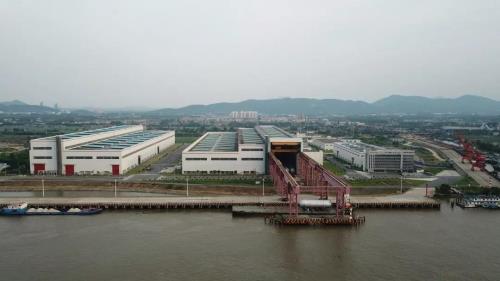 Supporting the opening up of the Yangtze Wharf
The Yangtze river of Zhenjiang Company has the annual handling capacity of transferring 1.3 million-ton goods and the hoisting equipment of loading and unloading the maximum 1700-ton goods, which is praised as the No.1 Hoisting of Yangtze River.
The acquirement of the port operation license of the Yangtze river means that all qualification of the wharf are complete, which is ready to be put into operation, providing strong support for the opening up of the Yangtze river and the achievement of the goal of making up the deficits and getting surplus for Zhenjiang Company.