Continual Breakthroughs Have Been Made in the Phase-two Project of Eastern Looped Network of CHMC
Category:Highlights
Release date:2021.06.10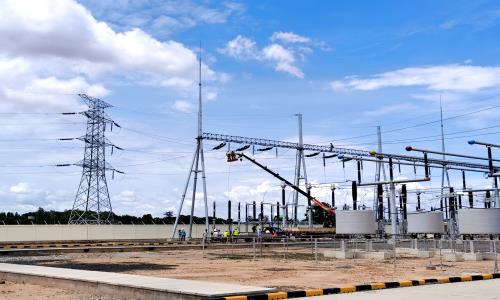 These days, in the phase-two EPC project of eastern looped network undertaken by CHMC, the main transformer of the converting station has been put in place and the electric transmission line has been electrified, laying a solid foundation for the whole looped network of the eastern looped network to be electrified.
On May 19th, the main transformer of Phnom Penh converting station of the phase-two project of eastern looped network transported from Sihanoukville was successfully installed. On May 20th, the power transmission lines for Phnom Penh and Sihanoukvile Economic Zone of Cambodia was electrified by Tatay Hydropower Station. On May 25th, the new converting station, the extension converting station and its affiliated lines in Kompong had also been electrified.
The smooth progress of the project has made it possible for Tatay Hydropower Station to deliver the electric power to the city of Phnom Penh and Sihanoukville Economic Zone, greatly improving the stability of the power supply network in the middle east of Cambodia, strengthening its transmission ability of electric power to provide quality electric power to the citizens and the industrial park, contributing a great deal to improving the people's livelihood and promoting the industrial development and business trade in the local place.
With over 80% of the 230Kv line of phase-two project of the eastern looped network in primary forest, the project team of CHMC responsible has committed themselves to delivering the project with high quality on time despite all sorts of barriers in the implementation.