Main Parts of Hydro Generator of Laos Nam-Ngum-4 Hydropower Project Have Passed Acceptance
Category:Highlights
Release date:2021.06.30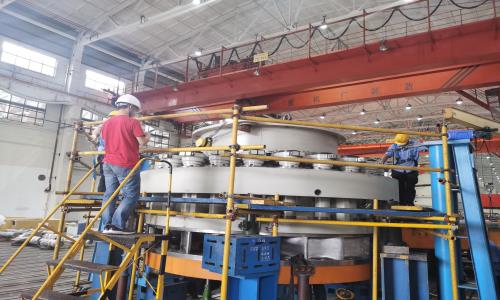 Between June 8th and June 10th in 2021, the inspection team composed of supervision representatives of Laos clients and representatives of the project team of Nam-Ngum-4 hydropower station, carried out the inspection of the main parts of hydro generator of Laos Nam-Ngum-4 hydropower station project including reel, distributor and generator bar before their delivery, which was qualified in the test.
The team of inspection has been briefed about the work report of the design, manufacturing and examination of reel, distributor, generator bar of the hydropower station, followed by their checking of the raw and auxiliary materials including quality certificates and assembly inspection records of reel, distributor and bar, passing the acceptance program with unanimous agreement in the following meeting. According to relevant specifications, the team of inspection also checked the appearance of the reel, machining dimension and weld seam, made a static balance test, checked the distributor in terms of its level, height, concentricity, clearance of guide vane, maximum opening value of inner and outer guide rings and made movement experiment, conducted a selective examination of and witnessed the pressurization, corona, instantaneous breakdown and medium loss experiment of the stator bar. All the indexes of the inspection complied with the design principles and its relevant specifications, ready to be delivered with legitimate quality.
At present, the hydropower generating unit team of Laos Nam-Nagum-4 hydropower project has reached its peak in the production. The successful delivery of the main parts of the hydropower generator has laid a solid foundation for the mechanical and electronic installation and operation of Laos Nam-Ngum-4 hydropower project.